Biodisc
BIOLOGICAL DISC PRINCIPLE
Bio-disc technology is an extensive wastewater treatment process involving aerobic biological digestion with fixed biomass. The supports of the purifying microflora are discs partially immersed inside the effluent to be treated and animated by a rotational movement to ensure either the contact of the bacteria with the effluent, their oxygenation and mixing.
In the immersed phase of the disc rotation cycle, the fixed biomass (fouling) removes organic and nitrogenous matter from the wastewater, then digests and degrades it.

The emergent phase of the disc cycle allows the bacteria to breathe.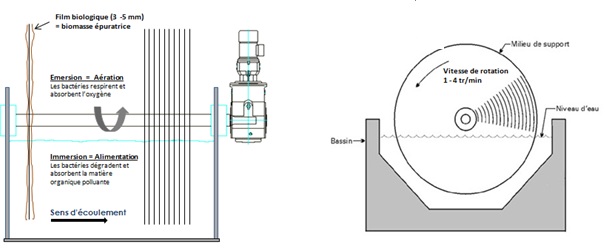 Excess or dead sludge, detached from the biological discs, ends up in the treated water, from which it is separated and then collected via a final clarification stage (reed planted filters, lamellar or static settling tank).
Range of use: from 10 to 5 000 p.e.
FIELDS OF APPLICATION:

Local communities
Hotels, campsites, condominium...
Schools
Extension of existing wastewater plants
Agri-food industries
Wine Industries
Dairy Industries

BENEFITS:

Compact pre-assembled, easy to install process
Modular and evolutive process
Low energy consumption
Low noise and odor emission
Stand-alone processing units
Underground and discreet equipment
Reduced commissioning time